It's been more than three weeks since the COVID-19 outbreak was declared a national emergency by The White House. For me that means…
More than three weeks since I stopped teaching my students in person.
Three weeks since my and my kids' upcoming theatrical performance was postponed.
More than three weeks since I started consistently working from home.
More than three weeks (possibly more) since I took my last in-person dance class.
And more than three weeks since I returned to my hometown (which I hadn't visited in nearly a year) to be socially distanced with my family.
At this time — as our country gets thrown into an increasingly tumultuous state, as jobs are lost and lives are irrevocably changed, and as we learn more and more that people are dirty, unhygienic and incapable of following basic instructions, it's easy to lament on the negative. And you'd be justified in doing so. But I'm trying to balance out my frustration with a little positivity. So I submit, for your reading pleasure, five positive things I've gotten from more than three weeks of socially-distanced dancing:
Dining room chairs make surprisingly good barres
After my fiasco with my rotating barre-stool during my first video class last summer, I'd momentarily sworn off of using household objects as dance aids. But necessity is after all the mother of invention and lacking any other means of getting in a good ballet barre, I reluctantly dragged a dining room chair out into the garage to use as a makeshift barre. Not only is it much more stable than my barstool, it's also a touch too short, which makes it harder for me to lean too hard on it for support. Suffice it to say, I've found myself testing my balance a lot more.
I'll never struggle with a video audition ever again (Hopefully)
I'm choosing to think of all of these Zoom classes I'm both giving and receiving as an extended lesson in video study. Having to learn choreography with distorted audio, remember to flip everything to the opposite side and not being able to dance full out but still trying to master the movement I'm learning is a tall order. But so far, I'd like to think I'm managing. With any luck, I'll never freeze at the words "video audition" or procrastinate video study until the last minute.
I'm taking class from teachers from all over the country/world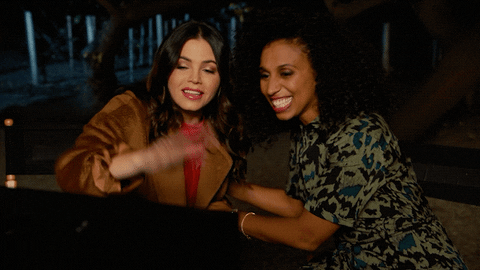 Including my tap crush Chloe Arnold
I've always had this fantasy of taking a road trip across the country and taking class at different studios along the way. Now I get to do it without leaving my house. I still have to find a balance between cross training and taking class, but so far I've taken class from some of my favorite teachers in Chicago and scratched a few dream classes (like tap with Chloe and Maude Arnold!) off my bucket list. The best part? I still get to look forward to taking from these incredible artists in person some day.
I have more time to build my skills
This hasn't just been a great opportunity to build my technique. In addition to finally having time to start blogging (and podcasting) again, I'm increasing my lesson planning skills (and learning the importance of really having lesson plans), finally getting a chance to sit and study footage of some of my favorite artists and gaining some important life skills outside of dance (hello budgeting, saving and investing).
Most importantly….
I've gotten a chance to || Pause
I've been on the go teaching, rehearsing and dance admin-ing for more than six months, without much of a break. While I absolutely love what I do and would never change my schedule — sometimes, even people who are following their passions need a break. And in the days immediately leading up to the COVID-19 mayhem, burnout and compassion fatigue (from an array of sources — both dance and non-dance) were giving me a run for my money. I'm truly grateful to have this time to breathe, train on my own time, take care of my body and check in with myself mentally.
"…even in this time of pausing and reflecting, I am far from still" Credit: Michelle Reid
But make no mistake, even in this time of pausing and reflecting, I am far from still. Even when I'm not dancing, teaching or lesson planning, my days staying-at-home are productive. I'm reevaluating my priorities, taking some time to be present with my current surroundings and thinking long and hard about what my future will look like once everything is back to normal, whatever that means.