*TH posts will typically go up on Fridays, this one is coming late, again because cold. This means that there will be two TH posts this week!
And now without further ado, the inaugural edition of DanceTopia's Terpsichorean Heroes will feature….
Mariah Carey's back-up dancers. 
Throughout your life as a dancer,  you'll learn to push through a lot of things that can go wrong during a performance, whether it is through direct experience or by watching others.  Personally, I've learned how to keep going when you make an onstage mistake, how to recover from a fall (helpful hint: it often feels worse than it looks), and how to salvage your performance when your music malfunctions or shuts off.  This New Year's Eve I think we all learned something else–how to persevere when the star of the show has given up.
By now I'm sure everyone has had their fill of Mariah Carey news, but one of the best parts of her NYE performance was the part that got the least coverage. As you watch Mariah Carey meander around the stage and "lip sync" (I use that term VERY loosely),  you'll also notice that her dancers never stopped giving their all even when it became obvious that Mimi wasn't even going to try.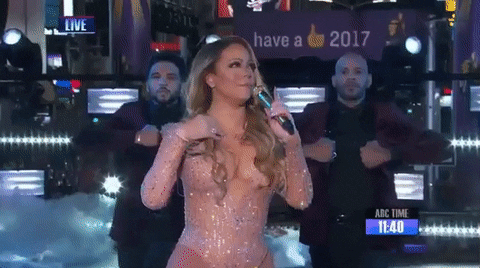 I guess the choreo's not going to do itself, right?
At certain points the dancers even HELPED Mariah get to her marks on stage so that she could do the choreography. For all the things that went haywire during this show, the dancers weren't it.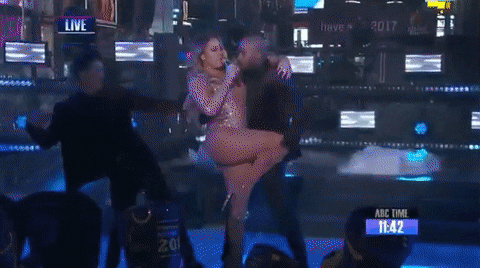 Idk about you Mariah but these guys had bills to pay.
Whoever trained these guys trained them well, and I'm sure when it was all said and done they felt that they'd more than earned their checks.  So while 2016 may have claimed one last victim in Mariah Carey's career, it also gave us one last glimmer of hope in her dancers. These guys were six true models of professionalism and endurance, even as they danced behind someone who would be dragged in the news for weeks to come and became a part of meme/gif history.
Don't believe me, just watch!